BOOM!
FRIDAY NIGHT LIGHTS!!
CROSSFIT OPEN WORKOUT 15.1 !!!!!
*for the ladies..
Workout 15.1
9-minute AMRAP:
15 toes-to-bars
10 deadlifts
5 snatches
(M 115 lb. / F 75 lb.)
I came in pretty anxious, nervous and super excited. I had a goal in mind. I wanted to get through ONE round. I wanted to get to ONE DAMN ROUND...as RX!
I cannot link Toes To Bar...I have to do it 1 at a time. So my goal was please please please let me get 1 round. I knew my deadlifts would be easy. I knew my snatch at this weight would be not super easy but I can do it. So I was only worried about the T2B.
I just nutted up...and went at it.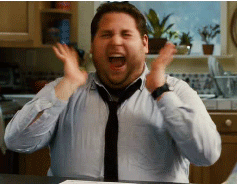 OMG OMG OMG!!!
I was able to complete 2 rounds!!! My total score...
I completed 63 Reps on 15.1 and my clean and jerk was 205# for a total of 268!!!
YAY!!!
I am beyond happy and super excited. I hate to sound cheesy but...tonight is a huge achievement for me. I went beyond what I thought I could do. I wont say I "crushed" this workout but I did so much better than I expected and what I thought I could do.
This truly is all the hype about crossfit is all about. The community and workout that pushed you...push you OUT OF YOUR COMFORT ZONE. Get out of it..stop being so comfy. PUSH YOURSELF! Again I know I sound like some crazy cult Crossfit idiot life coach wannabee. But I surprised and shocked myself tonight.
30 toes to bar? As RX? No way...really? I am too happy. I am proud of myself.
I hope this little accomplishment of mine will help someone out there to push themselves as well. You can amaze yourself....